CADANS Seminar 2015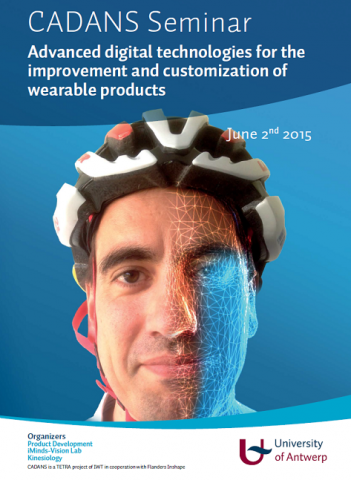 On June 2, 2015,the research groups Product Development and iMinds-Vision Lab of the University of Antwerp organise the first CADANS seminar. The main topic of the seminar is the use of advanced digital technologies for the improvement and customization of wearable products.
The design of products that closely interact with the human body, such as furniture, clothing, orthotics, and protective gear, requires a thorough understanding of the variation in human anatomy. Anthropometry – measurement of man – is an important tool in the design process to ensure safe, comfortable, and functional products. Emerging technologies to digitally capture human body data, e.g. via 3D scanning, offer far richer data compared to the traditional tape measure and open up opportunities in adding unique value through comfort improvement or personalisation. The application of these new technologies is, however, still perceived as challenging. This seminar provides an in-depth look in state-of-the-art 3D anthropometry in industry and academics with real-world cases. All SMEs, large companies, and academic researchers are cordially invited to join us in making this an inspiring one-day seminar.
The morning session focuses on industrial applications and the afternoon session focuses on recent advancements in related scientific research.