Visit Vision Lab @ iMinds The Conference 2014 Demo Area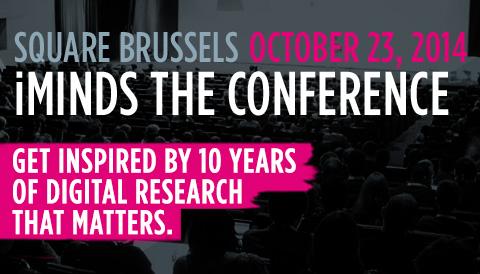 About iMinds The Conference 2014
iMinds The Conference is Brussels' #1 annual conference on digital innovation, targeted at researchers, developers, entrepreneurs, industry and policy decision-makers. The 2014 edition, on October 23, celebrates iMinds' 10th anniversary with renowned speakers, 60+ demos of research projects and startups and a big after-party.
Looking back at 10 years of digital research excellence, we continue to create new growth opportunities for Flanders and Europe through our expertise in key technologies such as Internet of Things, cloud security, and high-tech visualization. These technologies, each of them holding the promise of revolutionizing the way in which we live and work, frame the program for this year's conference.
Confirmed speakers include Ilkka Lakaniemi (Chairman European Commission's FIPPP), Jürgen Ingels (Founder Clear2Pay), Mariana Mazzucato (Author of the Entrepreneurial State), Jan Rabaey (Scientific co-director of the BWRC - Berkeley), George Yianni (Philips Lighting), Aljosa Smolic (Disney research), Abby Margolis (Claro Partners), John Baekelmans (S+CC), Dries Buytaert (Drupal, Acquia) & many more.
More about our speakers, program & registration practicalities:
Follow the latest conference updates via Twitter: #iMindsConf