ir. Femke Danckaers receives BiR&D price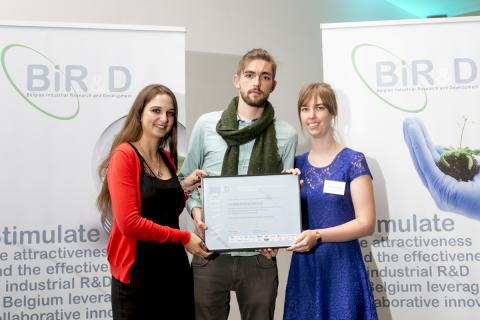 On May 13th, Femke Danckaers, Naomi Christis , and Ruben Beldé received the prestigious "Belgian Industrial Research & Development (BiR&D) Interdisciplinary Master of Science Thesis Programme 2012"-award from Marc Van Den Neste (President of BiR&D) for their joint project "Anthropometrics 2.0". The award ceremony took place in the Diamond Building in Brussels under the watchful eye of FWO / FNRS and numerous representatives of the Belgian Industry (AGFA, Alcatel - Lucent, Umicore, UCB, Solvay, P&G,...) .
The students received this recognition for their joint work on the incorporation of 3D statistical shape models in the design process for wearable products. For each of the students, this led to the submission and successful defense of their Masters thesis for obtaining the degree of Master of Sciences in 2013. During their research, the students were guided by the research teams Vision Lab (Physics), CoSysLab (Applied Engineering) , and Product Development (Design Sciences).
In addition, their Anthropometrics 2.0 project led to a doctoral project for Femke (who is now at the Vision Lab) and a closer cooperation between Vision Lab and Product Development with a first joint project CADANS (IWT TETRA 2014-2016)
Congratulations Femke!